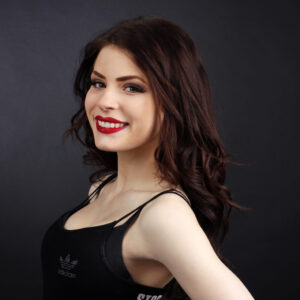 Med rötter från Cuba och med en stor musikerfamilj, har musik från alla håll alltid funnits i mitt liv. Redan från barnsben trummades och spelades det på allt som gick att få fram musik på, vilket ledde till min musikerutbildning i fiol i privatskola. Detta förde med sig stora erfarenheter av att få stå på scen, tävla, och framförallt få lära sig få fram ett eget uttryck.
Med mycket inflytande från latinamerikanska musiken som alltid slagit i takt med mitt eget hjärta kom dansen och fullbordade allt.
Idag är mitt liv fullt av dans och jag har haft turen att få fantastiska upplevelser och erfarenheter med mig såsom
Third place in Sweden Street Salsa Competition (2012) - Stockholm
Third place in Salsa Swedish Championship (2013) - Stockholm
First place in Kizomba Scandinavium Championship (2014) - Copenhagen
Sixth place in Kizomba World Championship (2014) - Milano
Started working at Stockholm Salsa Dance (since 2013) in Bachata, Bachata Ladies Styling, Salsa Cubana, Salsa LA style and Kizomba
Performing with Algeria dance group (2014) - Stockholm, Gothenburg & Berlin
First place in Bachatart Sweden, Swedish Championship of Bachata (2015) - Stockholm
Viktigast när man dansar är att man har roligt!! På mina kurser kommer du få lära dig hitta ditt eget uttryck i dansen och lära dig hantera alla de tekniskt utmanande grejerna, med stort fokus på känsla i dansen.
Jag älskar att dansa allt ifrån Salsa, Bachata och Kizomba, och det fantastiska är att Stockholm Salsa Dance har allt det och mycket till att erbjuda.
Välkomna in i värmen på SSD!