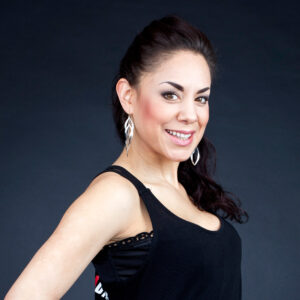 Nina Gomez was born in 1975 in Stockholm, Sweden. With a Swedish mother and Colombian father, she has her roots in two cultures but has always had a special feeling for the Afro-Latin American dance and music. Nina is a very versatile dancer with many years of education and with a widely and vast experience in dancing in general.
By the age of 5 her parents put her in a dance school where she started to take ballet classes. Between 1983-1996 she studied ballet on a regular basis in some of the best dance schools in Stockholm, such as The Ballet Academy, Stockholm Ballet Studio and Laszlo Meszaros Ballet School. After graduating 1994 from high school in Stockholm she enrolled a trainee program at the renowned Joffrey Ballet School in New York.
When Nina came in contact with Cuban and afro Cuban dances for the first time in 1992, "It was love at first sight", and that "love" has just grown stronger over the years. In 1995 Nina became a member of Niche Caché Dance Company (Stockholm) with whom she performed Cuban and afro Cuban dances around in Sweden, along with dancers such as Jorge "Chiqui" Dixon. She also worked as an instructor teaching Cuban salsa around several studios and clubs in Stockholm.
With her big passion for the Cuban music, culture and dance she has made several trips to Cuba between 1999-2002, where she enrolled classes in classical ballet for teachers such as Laura Alonso, Reynaldo Muñiz, Amparo Brito, and Dania Christia at ProDanza in Havana and in 1999 she also became a member of the dance company Pinos Nuevos under direction of Lazaro Noriega. Later back in Europe she worked as a ballet dancer 2003-2004 at the Salzburg Theater Dance Company, in Austria.
Parallel to her dance job at the theater in Salzburg she also worked together with Israel Gutierrez as a dancer in the Cuban Dance show that he staged.
In 2005 she gave birth to her son, Tristan and was then on maternity leave for a year after that.
In 2006 she enrolled pedagogical studies at The University College of Dance in Stockholm and took a Dance teacher's Degree in 2007.
Nina has also appeared in numerous dance and various musical productions in Sweden as well as in Cuba and around Europe, for example:
- Dancer and entertainer on the cruise ship "Sun Bird" (Mediterranean Sea 1999-2000)
- "La Rumba del Siglo", Cuban dance and music show on tour (England, Wales and Scotland in 2002)
- Operetta "Wiener Blut" (Salzburger Landes Theater, 2003)
- "The Wall" by Pink Floyd (Ballet by. Peter Breuer, 2003)
- Soloist dancer in "Night of the Dance" Performance (touring in Austria,Germany, Italy and Croatia 2004)
- "A Midsummer Nights Dream" (Ballet at the Salzburg Theater, Peter Breuer, 2004)
Although Nina's background is in classical ballet, she masters all Cuban popular dances such as Salsa, Afro-Rumba, Son, Cha-Cha-Cha, Mambo and especially Cuban lady styling, reaggeton/cubaton, etc ) which makes Nina a very graceful and expressive dancer.
As an instructor Nina has almost 20 years of teaching experience. She has taught ballet, salsa and Afro-Cuban dances since 1996 at the best dancing schools in Stockholm such as; Stockholm Ballet School, The Ballet Academy, Salzburg International Ballet Academy (Austria), Dance Compagniet, Lasse Khülers and Calle Flygare Theater School.
She is also a highly sought after Pilates instructor and is working since 2008 at different gyms and sport and health clubs in Stockholm.