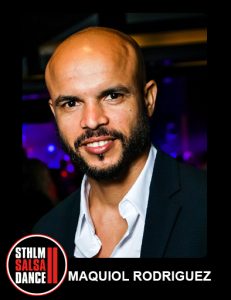 Instruktör
Maquiol Rodríguez was born in the city of Santo Domingo in the Dominican Republic. He is a bachata and salsa dancer who is dedicated to promoting Dominican dance, music and culture. ​
Maquiol Rodríguez found his passion for dance from a very young age. As a child he had the dream of being able to travel and be a great dancer representing the Dominican culture all over the world. ​
In 2015 Maquiol joined the famous Fusion Latina dance company and was one of the main dancers for three years until he decided to set up his own Pasión Latina school teaching Bachata, Merengue and Salsa. In 2018 Maquiol competed and won first place in the most popular bachata street contest in the east of the country. ​
Maquiol is known for his high energy and enthusiasm as an actor and entertainer at major events. He currently lives in Sweden where he teaches and promotes Dominican culture.