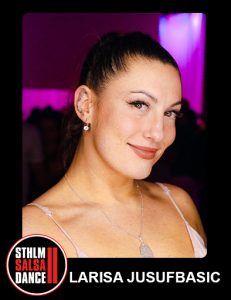 Instruktör
Larisa was born in Bosnia and came to Sweden in her early years and grew up in Uppsala. Her passion for music from all over the world has always inspired her and she always knew that she would eventually work with music somehow. Living in Norway and Chile for several years after graduation she eventually moved back to Sweden in her early 20's and that's when she discovered her passion for dance.
Starting with Cuban Salsa in Uppsala and Uppsala Danscenter, she shortly discovered there was a bigger dance scene in Stockholm. Visiting Hot Salsa Weekend for the first time was eye-opening; she discovered line style Salsa and was totally amazed. Traveling from Uppsala several times a week soon became tiring, so she decided to move to Stockholm because of her passion for dance.
Moving on to learning Bachata Moderna, LA Salsa (On1), Kizomba, New York Salsa (Mambo/on2), Cha Cha Cha, and then diving into Bachata Sensual and Tradicional to now learning the feminine dance Heels – Larisa is a very versatile dancer who loves expressing her musicality and good technique above all else.
Larisa has traveled to some of the biggest congresses in the world and has been an ambassador for Summer Sensual Days and Croatian Summer Salsa Festival for many years. She has also lived in Miami and trained with Latin All-Stars and they went on to perform at different events in Miami. Larisa performed and taught her first class at an international congress in Mexico. She has had the honor to assist some of the biggest names in the world at various congresses.
Stockholm Salsa Dance has always been her second home and it's the place where she has had the opportunity to grow into the person and dancer she is today.
She has recently started her own dance group SAÏA and they are planning their debut in the Summer of 2022.
She believes that dancing is so much more than just movement – it's a way to put yourself out of your comfort zone and truly grow.
In her opinion, there is always more to learn. Being a dancer allows you to be a forever student of life and that is something truly magnificent.
Do something life changing – join the SSD family <3